Discussion Starter
·
#1
·
my faithful pal rusty and i packed up the new teardrop over the weekend and drove to missouri.
on friday night we stayed at onondaga cave state park in leasburg, missouri. the high for friday was 55 and the low was 26. we didn't do much upon arrival other than walk around the campground and start our fire. we were one of four campers there on friday. i ended up using a small ceramic heater with a thermostat at night. i started off not using it, but i woke up at one point at my poor dog was shivering, so i turned it on. we were out of the park by 8:00 saturday morning and spent the day driving thru the mark twain national forest. the element towed the teardrop just fine and we traveled up and down several hills and around sharp turns. we arrived at the trail of tears state park in jackson, missouri around 3:00. we were one of three campers on saturday. the high for saturday was 58 and the low was 22. i once again used the heater on saturday night. i slept with the roof vent open both nights and i ended up cracking one window saturday night because i was getting a little warm.
sleeping in the trailer was comfortable, however i definitely need to add some padding to the mattress some how. of course, i totally forgot to pack a pillow so i had to use a balled up sweatshirt to sleep on! other than the pillow, i didn't forget anything major.
i need to construct some sort of small shelf to place the heater. i didn't feel comfortable placing it on the floor in fear of knocking it over. aside from that i don't foresee any major mods needed.
i had one couple stop and ask about the trailer and several other vehicles drive by slowly to check it out.
if the weather is nice i may go out again this coming weekend.
HC - i've got the itch to look into painting the trailer the same color as the element... white is just too boring!
onondaga cave sp
onondaga cave sp
onondaga cave sp
trail of tears sp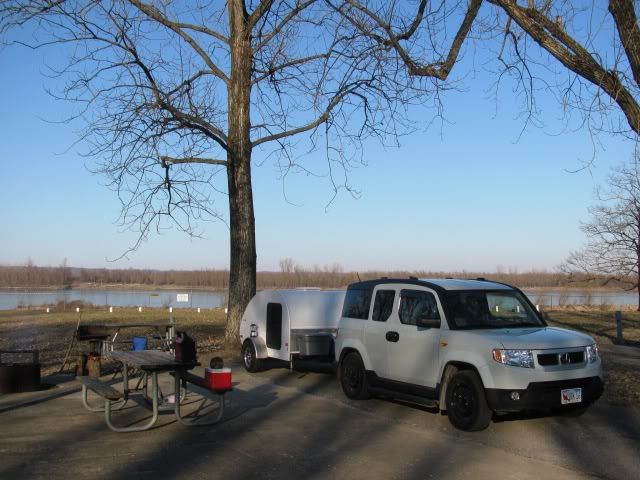 trail of tears sp
trail of tears sp
trail of tears sp