Here's my 8" JBL sub install step-by-step with pics. I picked the JBL GTO804 since it only requires .3 cubic feet of space, and has a relatively small overall outer diameter, or so I thought (you'll see why later).
I'm not gonna go over removing the whole center console, you can find that out elsewhere here. It is somewhat of a chore.
Anyways, after it's all out you can get to the sub enclosure.
Pop off the cover, and remove the (2) 10mm bolts on each side that hold the enclosure in. Once the enclosure is out, remove the subwoofer, and then remove all the screws around the backside perimeter that hold the enclosure together (don't forget the one in the top through the hole, and the one at the bottom underneath that foam pad).
Once you have the enclosure in half, get the dremel out - you'll be using it A LOT. Remove all the port chamber material on the inside.
After that is done, since a larger 8" sub is now going in, the front of the enclosure must be opened up some to allow the speaker to fit. I'd suggest a little trial and error for your specific sub and keep cutting until it fits. You can see my new JBL sub in the background. For an 8" sub, it's a monster: 200W RMS and 800W peak handling.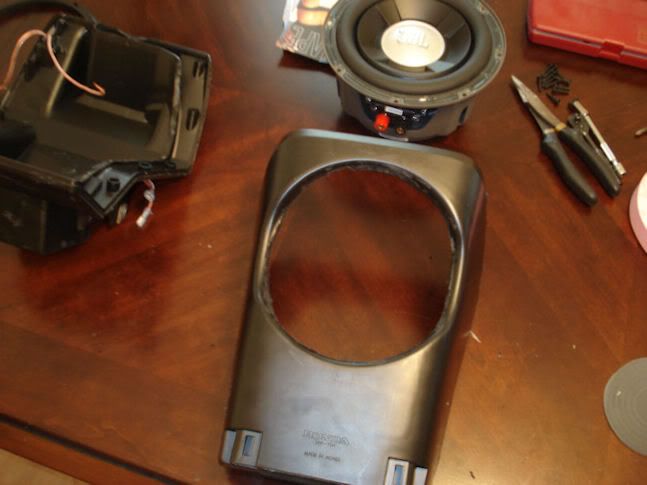 Now to the baffle. I used 1/4" plywood since space is at a premium. I cut the center speaker cutout hole first, then using the speaker I traced the overall outer diameter of the sub, then I made sure to leave some excess material above and below where the sub will mount. Remember it doesn't have to be pretty - none of this is visible.
Trial fit the baffle with the sub in.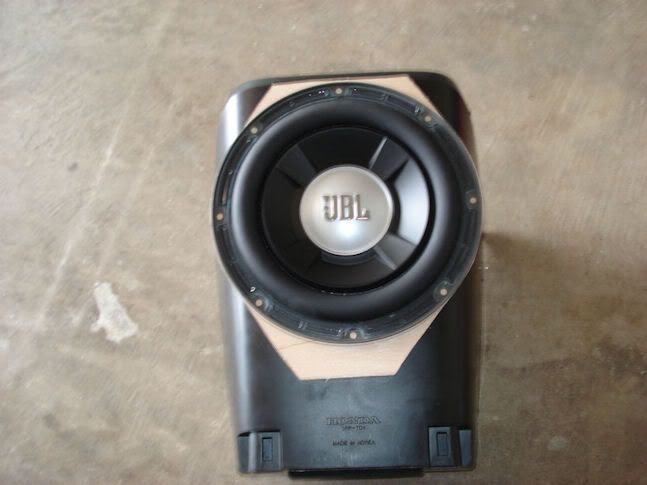 I notice something that will have to be addressed: the gaps on the sides of the enclosure between the baffle and the enclosure itself.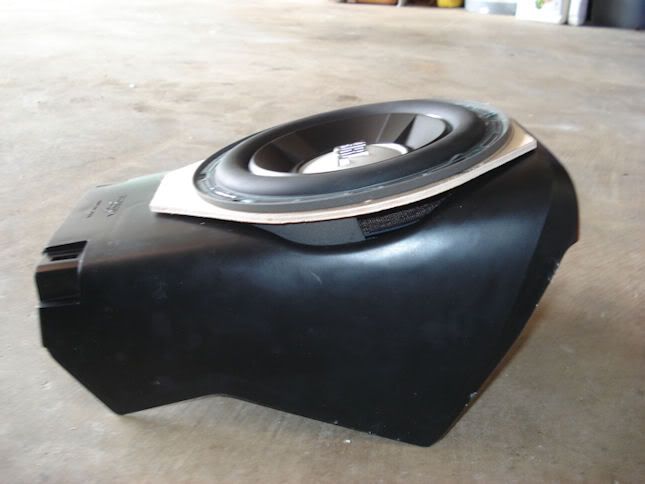 The baffle installed. Now I have a nice flat surface to mount my sub. I screwed it onto the enclosure with construction adhesive on the back side as well.
I cut out a couple of pieces of wood to brace the sides of the baffle as well as to help close the previously mentioned gaps. You can see one piece dry-fit into the side, and the other piece on the ground.