Discussion Starter
·
#1
·
This DIY is from my 04 Ex, however should be 90% the same for all year Elements.
(wire colors may change, but locations should remain the same)
This DIY will focus on the wiring needed to install an alarm & remote start combo unit and an ignition bypass. This can be used for all alarms, remote starters, and alarm+RS combo units, where some or all of the wiring below may be needed.
I strongly encourage any beginners or first timers to read the alarms install manual & keep it on hand at all times during the install, most will explain in detail what each wire is for (in regard to the alarm, not the car) and why it would be needed. You will need to determine (or ask on here) which wires you may need, and which wires you can omit.
Its always nice to have a helper assist in the install, this was mine.
An alarm/rs install can be daunting to beginners with so many wires involved. When I begin an install, I like to divide up all of the wiring into groups for where they will be going, and tape them together a few inches from the alarm's brain. This DIY will focus on each grouping of connections, because you will be making several connections in only a few locations.
Ignition Harness
The primary ignition harness runs along the bottom of the steering column, 3 philips screws will allow the steering cover to come off. This gives more room to work, and will also help later on with installing the ignition bypass. All connections here will be large gauge wires, and will be spliced except for the starter. The starter wire will be cut in half and there will be 2 wires from the alarm, one for each end of the starter wire.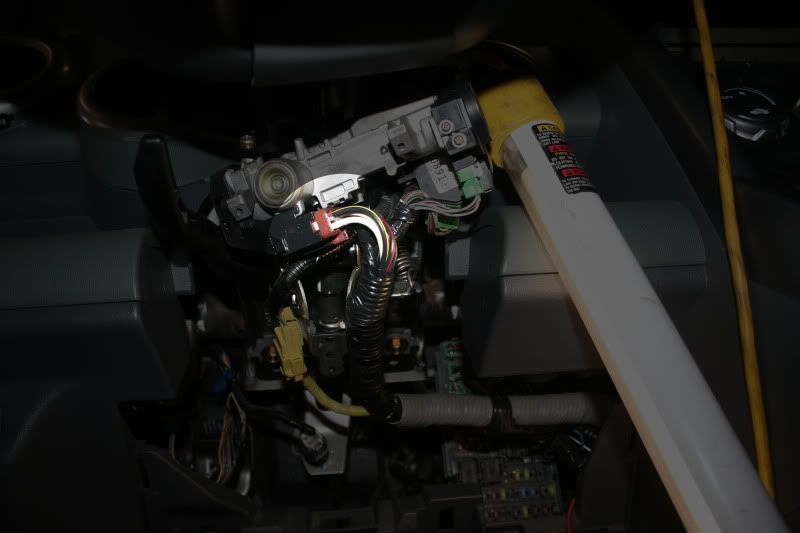 Wires found here are:
+12v = White
Ignition = Black/Yellow Stripe
Accessory 1 = Black/Red Stripe
Accessory 2 = White/Red Stripe
Starter = Black/White Stripe
Next to the Ignition harness you will find the anti-theft wire harness, which is required for installing a bypass module to successfully remote start the vehicle. The parking brake wire I connected to the alarm's neutral saftey wire, so the alarm will lockout remote start unless the Ebrake has been set.
Wires found here are:
Data = White (pin 2)
Parking Brake (-) = Green/Orange stripe (pin4)
Ignition = Yellow/Black Stripe (pin 6)
This will be cut & connected much like the starter wire was, except much smaller gauge wiring.
OEM Alarm Plug
This was unused in my Element, which I found taped up & out of the way. Those with OEM security systems will have a module plugged into it, but location wont change.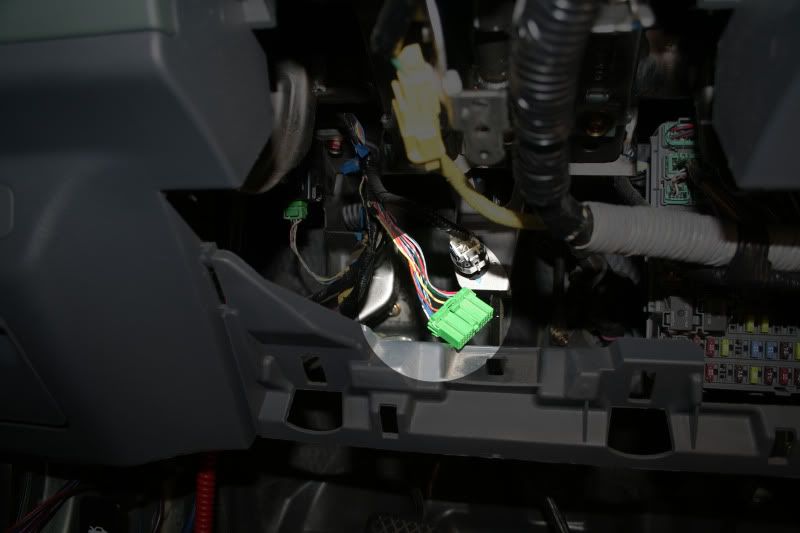 Wires found here are:
Parking Lights (-) = Blue
(connecting to ground activates lights)
Doors (-) = Green(Dr door), Grey/Black stripe(Pass door)
Must use both wires & diode isolate (details later)
Trunk (-) = Red
Key Sense (-) = Red/White Stripe
(for ignition bypass module)
Diode isolating needs to be done so the alarm can monitor both doors with a single wire.
If both wires are not used, the other door will not trigger the alarm (& thats bad mmkay).
If diodes are not used the car will no longer be able to tell one door from the other, so if one door is opened the car will think both doors were opened.
The green single wire goes to the alarm, each leg from the 2 diodes goes to a door trigger wire. Picture is to show diode orientation, & will only work one way (note the striped end).
Door Harness
This harness is in the kick panel, and leads into the drivers door. No relays are needed, the 200ma outputs from an alarm is all thats needed to activate the locks.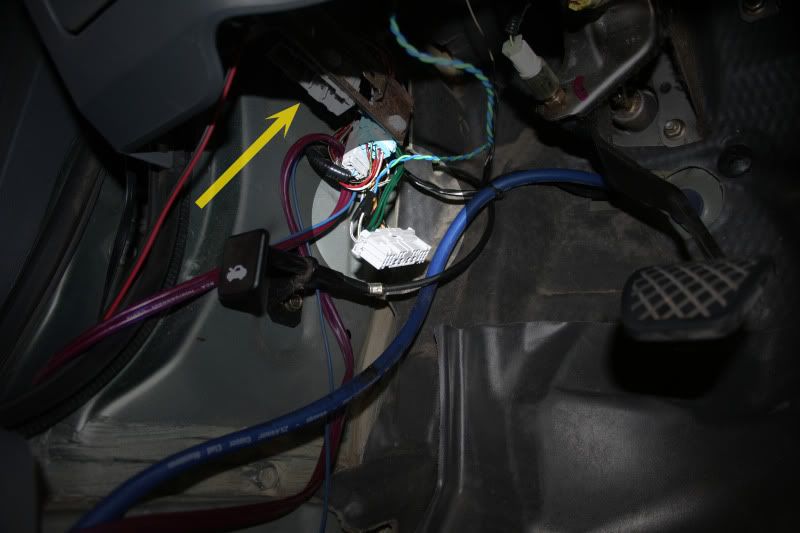 Wires found here are:
Lock (-) = White/Blue Stripe
Unlock (-) = White/Green Stripe
Brake Shutdown (+) = White/Black Stripe
This wire is for remote starter systems, and found right at the brake pedal.
Sorry for no pic, but its pretty easy to find.
Tach Signal = Blue
Found behind gauge cluster
Not necessarily required for remote start, but highly recommended.
There are several places to find a tach signal, I found this to be the easiest.
Pop out small dash panel in door jamb, remove 1 philips screw & gauge cover pops off.
Remove 4 philips screws around gauge cluster & the cluster comes right out.
Engine Bay
You will need to run 3 wires from the alarm into the engine bay, 2 for the siren and 1 for the hood pin. I drilled a small hole in the firewall next to the clutch pedal, inserted a small plastic grommet, then ran the wires through wrapped in tape the entire way.
There is a small flat space on the hood perfect for a pin switch, however be careful drilling in the cross member because there is a wire harness running underneath where I placed the switch. Pop a plastic retaining clip on the side & the wires can easily be moved out of the way for drilling. The pin switch will have 2 nuts to allow you to adjust its height, you will need the metal part of the pin extended out almost to the same height as the rubber stopper, but you want the switch with pin pressed in to be shorter than the stopper, otherwise the hood will break the switch.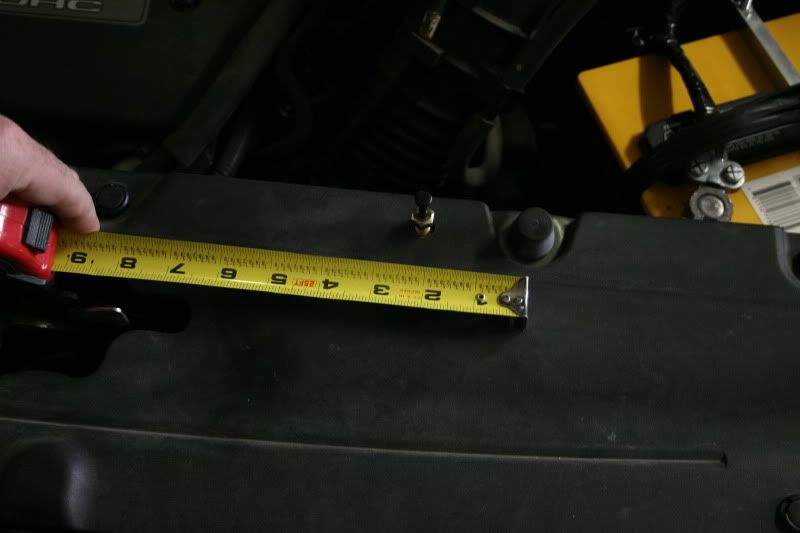 Siren was placed on the shock tower, wiring is short & hard to get to which is what you want. It is also away from any heat sources, and will be out of the elements which is good considering how open the engine bay actually is.
Antenna
This is where I placed my antenna. The plastic piece around the mirror will pop off, and I filed off just a little bit so the wire could tuck in without pinching or sitting up higher than it should. Ran the wire up sail panel & along the top of windshield to reach the mirror. The LED is surprisingly visible in this location, which is great. I am not happy with the way DEI has made the valet switch & LED a part of the antenna, but what can you do.
That should cover every connection you will need for any alarm and/or remote starter system to be installed into an Element. As I said before, this DIY will work on every year Element with changes only to the wire colors found in each location. That said I hold ZERO responsibility for anyone who uses this write up. Connection needs will vary from alarm to alarm, and from bypass module to bypass module, so do some research before buying, but mostly READ THE MANUALS before attempting the install. It is not hard to really mess up a vehicles electrical system, so if anyone is ever unsure of something by all means ASK!