I've been looking around for 18" wheels (tirerack,andyautosport..) for my 09 EX and they all required centering rings. I'm afraid that wheels will vibrate using the rings.
anybody using rings? i'm lookina at ASA wheels and Enkei

Thanks
Don't confuse "hub centric rings" with "hub centric spacers"
Hub Centric rings
only purpose is to help center the wheel on the hub. They are a run that, when installed into the back of your aftermarket wheel, sits flush with the mounting pad. With the correct size hub centric rings, they will reduce or eliminate the chance of a vibration caused by your wheels. Hub centric rings do not carry a load. Most aftermarket wheels will have a hub bore larger than your vehicle's hub size. If you don't run hub centric rings your chances wheel vibration will be higher. Hub centric rings do not jeopardize the strength of your studs, wheels or any other component of your hub assembly. They do not push your wheels and tires out further (like a wheel spacer does).
Hub centric rings are included with every set of aftermarket wheels that we sell FREE of charge. Discount Tire recommends using hub centric rings whenever you run aftermarket wheels that have a larger center bore than your vehicle's hub. (if available)
These are hub centric rings: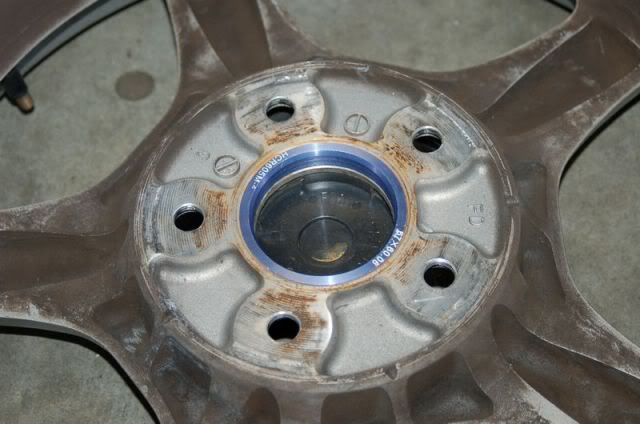 .
.
.
.
.
Hub centric spacers
are metal spacers much like a larger washer. Some of them are bolt on and some of them just slide over your studs. They are used to space wheels out further away from your vehicle's hub. These spacers have the same hub size as your vehicle and therefor can be called "hub centric". They slide over your studs and get, more or less, sandwiched between your wheels and your hub.
Wheel spacers are what you want to stay away from. Wheel spacers , hub centric or not, increase your chances of vibration and increase your risk of stud failure.
Discount Tire does not recommend the use of wheel spacers, hub centric or not, bolt on or not. Discount Tire will not work on any vehicle with any type of wheel spacer.
These are hub centric spacers:
Hope this clears it up for you.