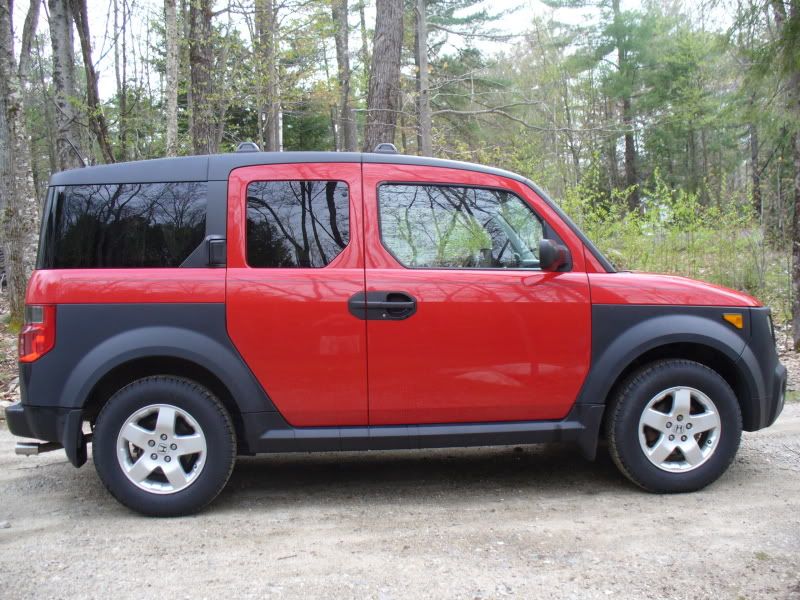 2005 Honda Element EX - $12,500
Vehicle Highlights
Mileage: 85,000
Engine: 4-Cyl. 2.4L VTEC
Transmission: Automatic
Drivetrain: 4WD
Power Windows
Power Door Locks
Single CD
Alloy Wheels w/ newer Michelin LTX M/S tires with plenty of tread
Tilt Wheel
Dual Front Air Bags
Cruise Control
ABS (4-Wheel)
Power Steering
Sun Roof
Optional
Air Conditioning
Premium Sound
Roof Rack
Towing Pkg
Also comes with Honda OEM extras: Roof Cargo Carrier Bag, Security Lug Nuts, Shopping Bag Hauler
The Element is great and we love it. It's perfect for us but being that we just bought a house, we're trying to limit our expenses as much as possible, and that's the only reason we're selling it. It drives great and I wouldn't think twice to hop in it tomorrow and drive to Florida. We just brought this up with us from South Carolina 8 months ago, so no worries on rust you find up here.
Oh, and the car still has a dealership warranty on it until 100k miles! What a deal.. We're firm on the price, so no haggling. Kelly Blue Book lists it at $13,200 in excellent shape, $12,500 in good. I'd consider it in great shape (with only a few minor cosmetic blemishes like a door ding on passenger side, a couple rock chips, and a scuff on the right rear bumper), and the KBB price doesn't even take into consideration the warranty or extra stuff mentioned above. All maintenance, oil changes has been done at dealerships. We just recently had the battery replaced by Honda, but other then that it hasn't needed a thing other than oil changes and tire pressure since we've owned it.
Here are some more pictures
http://smg.photobucket.com/albums/v474/doitdub/Element/
By the way, we currently have the seats out as we've been doing some moving and need the extra room...that's why they're not pictured. No rips or stains on them. Let me know if you have any questions or are interested in checking it out.
Have a good day.
Justin
[email protected]