Discussion Starter
·
#1
·
[FONT=&quot]HD GRILL GUARD MOD-04 MAR 2010: (Lower Grill)[/FONT]
[FONT=&quot][/FONT]
[FONT=&quot] [/FONT]
THIS PROJECT (DONE MARCH 4-5, 2010) IS DETAILED OUT FOR -ONLY- 2009 AND 2010 MODEL'S GRILLS. THERE IS A BIG DIFFERENCE IN TERMS OF THE UPPER GRILL OPENINGS. A SEPARATE THREAD IS SET ASIDE (SORRY MODS!) TO DETAIL THE "UPPER GRILL GUARD MOD".
What follows is my 2009-10 Lower Grill Guard Mod using the metal Home Depot gutter screen without and with paint… For those of you that are handy, you'll appreciate the detail… I did look at the other threads on this mod and did mine this way so that those of us who are not mechanically inclined (READ DISCLAIMER) have a resource to figure this stuff out… To those folks who are like me, by all means, follow this account and my bumbling hands to the end…! I've pared this down from 150+ photos to what you have before you…
DISCLAIMER: I AM NOT MECHANICALLY INCLINED BY ANY MEANS AND I TOOK THESE PICTURES IN CASE I FORGOT A STEP OR PROCEDURE ALONG THE WAY. PLEASE READ THE ENTIRE THREAD FROM BEGINNING TO END AND IF YOU CANNOT SAFELY HANDLE 30-40 LBS, GET ANOTHER SET OF HANDS TO HELP YOU. I DID THIS PROJECT AFTER 6+ MONTHS OF OWNERSHIP BECAUSE IT TOOK ME THAT LONG TO GATHER UP ENOUGH COURAGE TO DO THIS ON MY OWN. I'M A BIG GUY AND DID THIS BY MYSELF BUT BECAUSE I ADMIT TO BEING AN IDIOT AT TIMES, I TOOK THE PICS TO COVER MY BUTT. THE PROJECT TOOK 2-AFTERNOONS TO COMPLETE (BECAUSE OF PAINT DRYING TIMES) AND THE LAST PHOTO WAS TAKEN ON A SUNNY DAY TO SHOW THE FULL RESULTS OF MY GOOD 'OL LUNCH BOX. NOW WOULD BE A GOOD TIME TO CLEAN OUT THE FINS OF THE CONDENSER/RADIATOR FRONTS NOW THAT THE BUMPER IS OFF. DO THIS PROJECT AT YOUR OWN RISK! WORK SAFELY AND HAPPY MODDING!
List of tools used:
Screwdriver-flat head: to pop-out clips

Screwdriver-Philips: screw removal

10mm socket & wrench: stepped bolt removal

Black marker: to mark my template

Leather gloves: to prevent cuts on my hands

Tin snips: to remove excess metal

Wire cutters: to trim zip ties

Blanket-to lay the bumper
Home Depot / Wal-Mart purchases:
HD-Gutter Guard $2.16 each (I got 2 for Upper and Lower Grill Mods)

WM-Spray Paint: Rust-Oleum Automobile Primer (Dark Gray) $3.97

WM-Spray Paint: Rust-Oleum Flat Protective Enamel (Black) $3.97

WM-Leviton 4-Inch Cable Ties (Black/100-count) less than $2 (had these for a long time/need 10-for this project)

Total: $14.26 + 9.75% tax = $15.65
[FONT=&quot]LOWER GRILL GUARD MOD:[/FONT][FONT=&quot] (31-PHOTOS)[/FONT]
[FONT=&quot] [/FONT]
Step One:
BUMPER REMOVAL (REFER TO PAGE 3 ON THE PDF FILE FROM HANDA)
Follow this LINK or follow here:
http://www.handa-accessories.com/element/10fogs.pdf
On page 3 of the D-I-Y Fog Lights Installation Instructions (from our good friends at H and A), you'll see the diagram of where all the clips, bolts and screws are to remove the bumper. What follows is my pictorial of how I did it.
Start by raising the hood. What makes the 2009-2010 models different from previous years is that there are six fewer clips! Nice, no?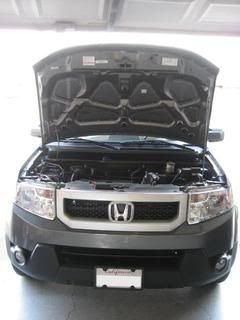 ---
Remove the FIVE clips from the radiator cover with a screwdriver or paint can opener.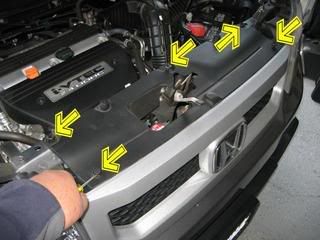 ---
Next: lift off and slide forward so that you avoid the hood latch/lever.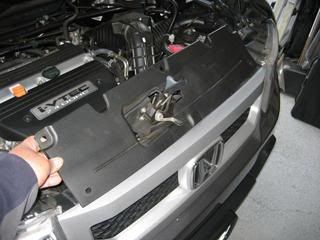 ---
Next: 2-pairs of screws in the front wheel well. Both sides.
Driver's side.
---
Passenger's side.
---
Next: Under the bumper there are FOUR 10mm Stepped Bolts that need a socket wrench to remove. Two off the center and two near the wheel wells.
Driver's side / left of center.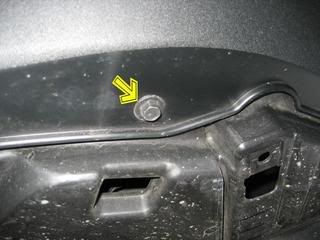 ---
Passenger's side / right of center. Picture of the socket wrench in use.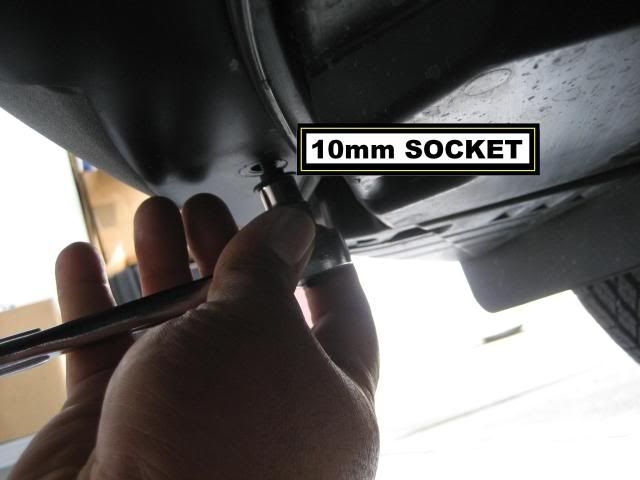 ---
Driver's side.
---
Passenger's side.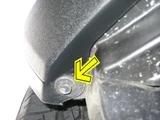 CONTINUED...