Discussion Starter
·
#1
·
I hate change. I hate handing over several thousand dollars, but I also hate having a car note even if the interest rates are crazy-low nowadays. Car shopping isn't an easy thing for me.
First, I had to decide what I expected the new car to do; that was the easy part. It had to be able to haul dive gear for two, camera and equipment and the personal items needed for weekend trips to dive sites. I also wanted to be able to secure the equipment inside the vehicle, unlike an open-bed pickup while being able to access items, unlike a pick-up with a truck cap. After comparing vehicle specs on the internet, it was clear I needed to go down to the Honda dealership in Dothan, Alabama.
Wayne is a straight-shooting, easy-going fellow who sales cars at Jim Skinner Honda. He spent an hour of his time showing me the Elements as well as the Pilots. The Elements were almost right. The versatility of the interior was fantastic, the vinyl floor covering perfect for my needs and the price was much better than the Pilot cost. The only problem was that none of the Elements were manual transmission. No car was purchased that day.
Wayne was working when I went back a couple months later and he greeted my son and me with the ease usually reserved for old friends. Bless his heart, he had no idea. After kicking the tires of several 08 Elements, agonizing over this difference and that difference, I still wasn't happy because none of them were stick shift. After an eternity of tire-kicking, Wayne took me to a used Pilot. It was only two years old and it was a stick shift. OK, it wasn't quite what I wanted, but close. Maybe I can have someone take the carpet out and install vinyl. Time to go back in the building.
Wayne gave me a number, and I hesitated. He went and talked to the boss and returned with a much better number. Apparently, I am alone when it comes to being a control freak and the vehicle wasn't drawing much interest because of the manual tranny. The deal was very good, so I sat down to do the paperwork. When it came time to sign, my heart raced and beads of sweat broke out on my bald noggin. I couldn't do it. I got up to leave when the manager said he'd knock it down even more! I told them I had to go. Poor Wayne, I really did feel bad for him. As we drove off the lot, my son said, "He'll shoot you if you go back, Dad."
Last week I decided I was going to go ahead and buy, damn the torpedoes. All I want is vinyl floor covers and manual shift. I'll wait a few days if they have to bring it from another dealership. So, off to the Honda dealership we went.
Wayne was in the showroom when we walked in, and he greeted me by name when he saw me. It had been many months since I bolted for the door and he still remembered my name. Does he really have a bullet with my name on it? Nope, he was as easy-going as the first two encounters.
The lot only had two Elements that morning when they opened for business, and one was sold just before I got there. That left one, an SC. It was a dirt-catcher (carpeting) and had an automatic transmission. There are other things about the car that is totally unnecessary to me, like the GPS, the overhead console and the backup camera. It really wasn't what I wanted. It was way too froo-froo. Still, the the versatility of the Element, no matter what model, is just what I need.
I couldn't promise Wayne I'd be any easier next time, but he'll be the one I go to for my next vehicle.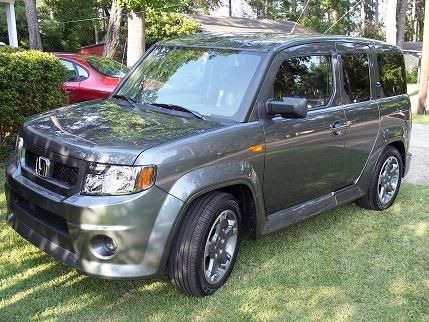 Nice to meet you all, I'm happy to be a member!