Discussion Starter
·
#1
·
Someone in another one of my posts asked for pictures of our pups. I have TONS and TONS!! Thought I'd share a few here
Also have many of our past and present fosters but that's a whole other thread lol
This is the Jeep we used to have. This picture was taken just before a trip to town and the day after we decided that our foster, Kano (blue brindle male dane), was already home (aka "foster failure"). Kano was a protective boy who had an issue with tractor trailers and on the way to town he decided to snap at one passing by in the other lane and ended up knocking the back glass out of the Jeep...with his head! lol We lost him suddenly in January and miss him dearly :-( The brindle female is our first dane, Nova, and the little guys are Axel (also lost him suddenly last July) the Rat Terrier and Rose the Jack Russell. Yea, we're G-N-R fans 8)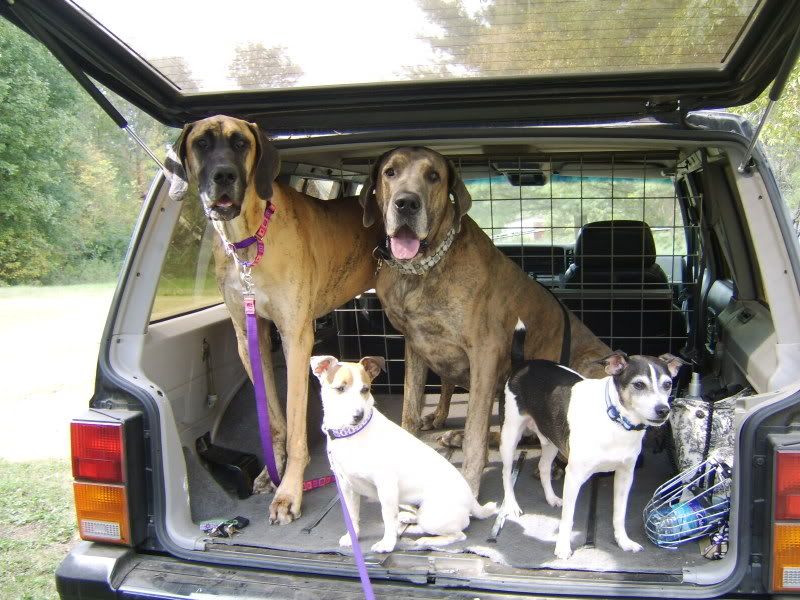 The after picture. Don't they all just look so happy with the new a/c? Kano is mighty proud of himself!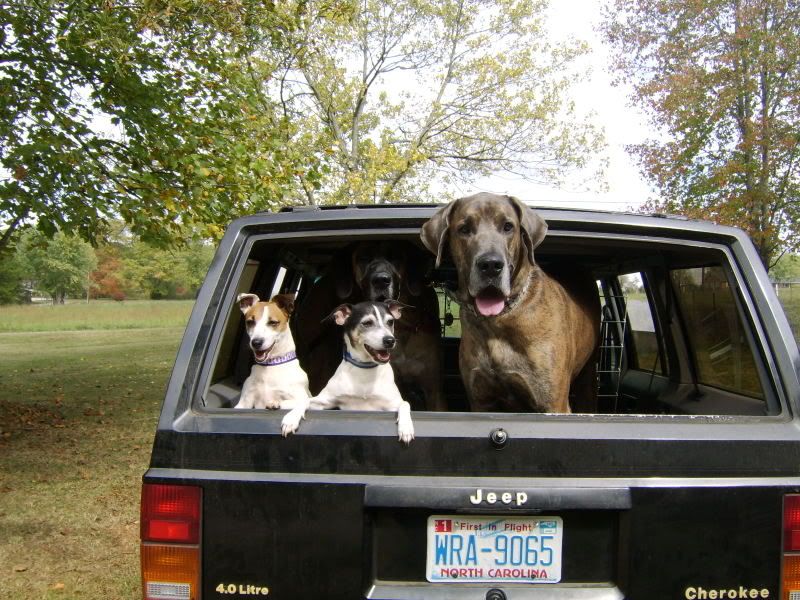 This was our Christmas card this past year...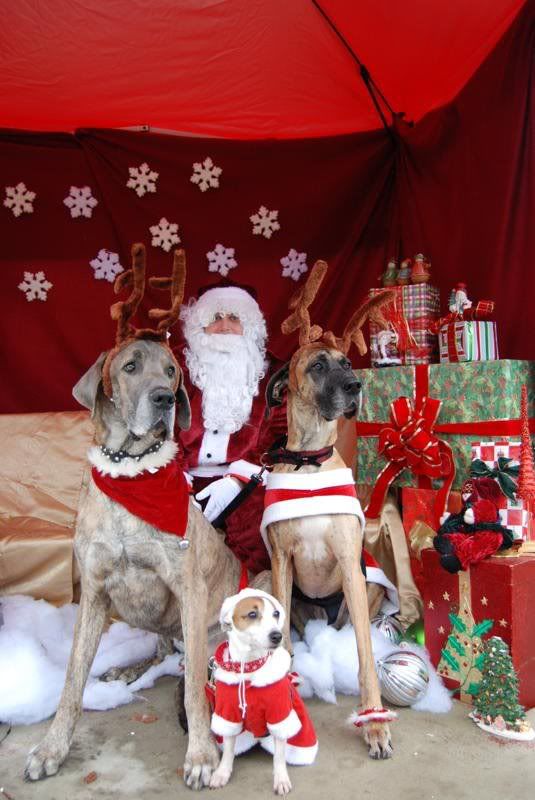 One of the last pictures we have of Kano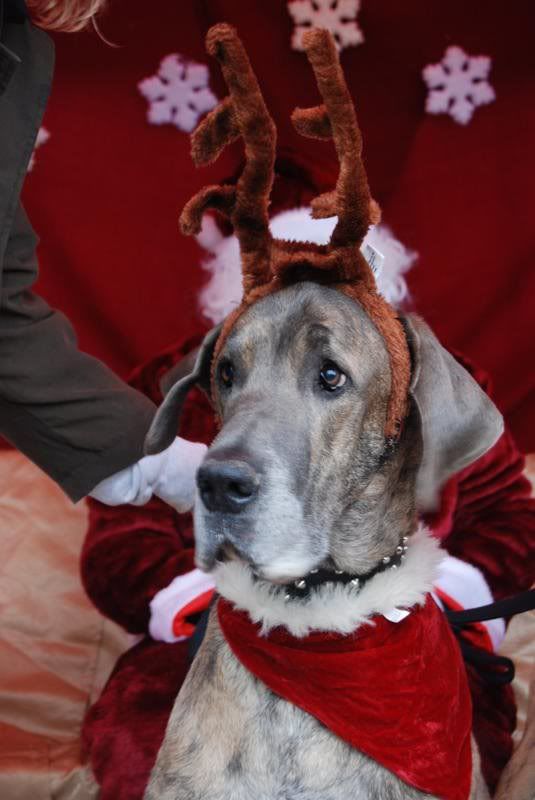 He was a 160 lb lap dog
And like to rock out on Guitar Hero lol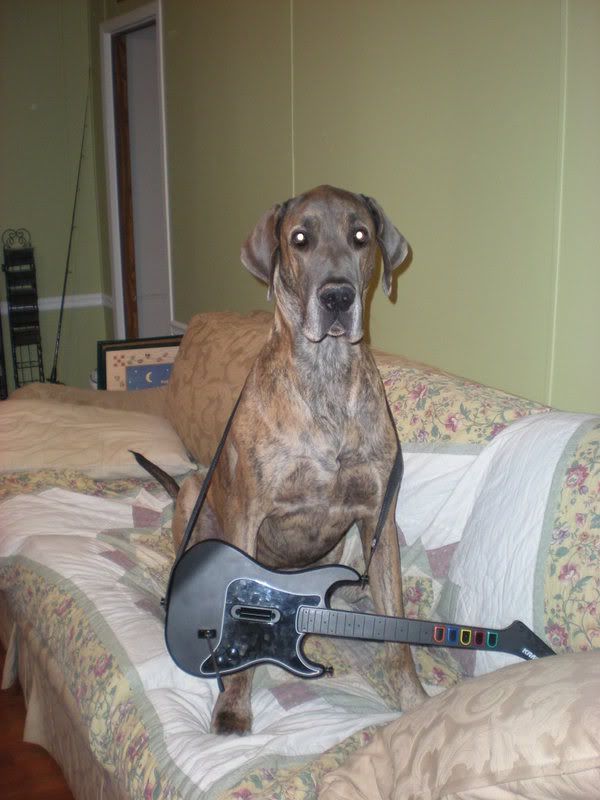 Nova was our first dane girl...got her at 11 weeks old. She's now 4 years and is a registered therapy dog. She's the best!! We almost lost her in May of last year from bloat/torsion. Thankfully we knew the signs and caught them early. She survived the emergency surgery to save her life and has been doing fantastic since...
This is at a rescue event with her pal, Ozzie the parrot, on her back.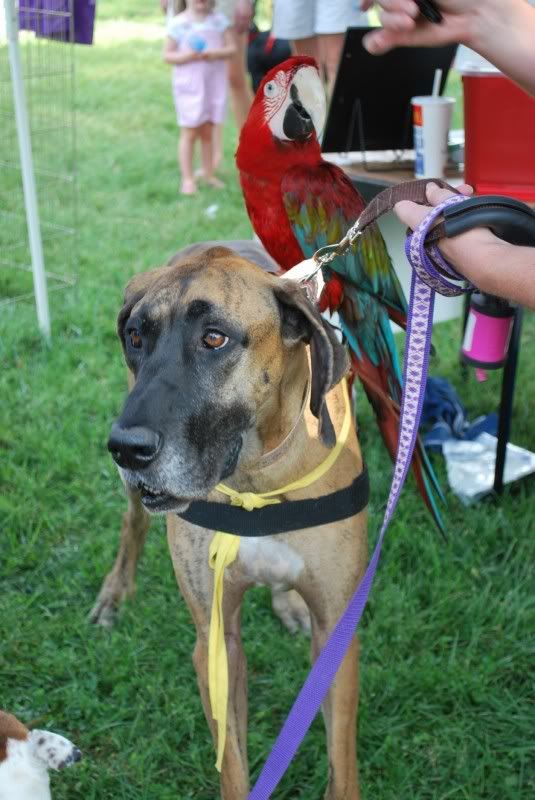 Another...
Posing with her stuffy in front of my Stang (aka previous dog hauler)
Axel, our 9 year old Rat Terrier and first dog as a married couple, was her best buddy. She was so upset when he passed
And then there's psycho Rose. Cute but CRAZY!! lol
Axel and Rose